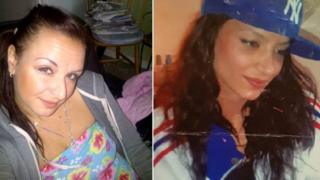 A convicted sex offender has been found guilty of murdering two women whose bodies were found in his freezer.
The remains of Henriett Szucs and Mihrican Mustafa were discovered at Zahid Younis's flat in Canning Town, east London, in April 2019.
Prosecutors at Southwark Crown Court said Younis preyed on the vulnerable women, subjecting them to "very significant violence".
Jurors deliberated for over 16 hours before returning majority verdicts.
Younis will be sentenced at the same court later.
The four-week trial heard police made the "grim discovery" when looking for the defendant at his home following a call about his welfare.
He was not in but officers gained entry and noticed the lockable freezer, around which flies were gathering.
'Gruesome'
Ms Szucs, 32, originally from Hungary, was last seen alive in 2016 and was killed shortly before the defendant purchased the freezer in November that year, the court heard.
Younis's second victim, 38-year-old Ms Mustafa, was last heard from in May 2018.
The nature of the crime scene meant a cause of death could not be established, but the scientific evidence showed that the women had been subjected to serious violence before their deaths.
Det Ch Insp Simon Harding said the freezer was forced open by one of the officers on "an old-fashioned police hunch" about what was inside it.
He said: "He broke open the freezer and discovered what could only be seen, at the time, as only one body.
"It actually took the freezer being taken away and X-rayed for it to be seen there was another body underneath that. It was a gruesome discovery for the officers."
Det Ch Insp Harding described Ms Szucs as someone who had been in abusive relationships before and was preyed upon by Younis.
She moved in with him – although Younis denied having a long-term relationship with her – and "we have shown that she was really in love with him in her own way", the detective said.
"She wrote him letters that we found. Unfortunately to him, she did not mean anything."
The court heard that Younis has several previous convictions for assaulting partners.
A BBC investigation has identified a series of issues relating to the case:
In 2002, a teenage girl told police that Younis had attacked her with a hammer and crowbar, after falsely imprisoning her. No further action was taken.
In 2007, 26 charges against Younis relating to two young teenage girls were discontinued after a judge directed that a jury should clear him of many the offences following evidence from one of the victims.
In 2008, a plea agreement resulted in several charges against Younis being discontinued, including rape and sexual assault.
In 2016, Ms Szucs was placed in a safe house for victims of trafficking after she was thrown from a block of flats by a man – not Younis – who was on bail for allegedly raping her. The CPS had declined to authorise a rape charge after it was first reported in February 2015. The Met Police lost contact with her as she fell under the control of Younis.
The Met's missing person inquiry into Ms Mustafa – which started in 2018 – did not examine vital phone evidence, which would have shown contact with Younis around the time she vanished. It is now the subject of an internal Scotland Yard inquiry after her family made a series of complaints.
Younis, known as "Boxer", denied murder but did admit putting the women in the freezer, pleading guilty to two counts of preventing the lawful and decent burial of a body.
He showed no emotion as the verdicts were read out while members of Ms Mustafa's large family, who attended every day of the three-week trial, said "yes" in the public gallery.
Her older sister, Mel Mustafa, said: "Thank you God, thank you."
boiler repairs islington

Source link